How To Prevent Water Damage in Your Home
4/9/2022 (Permalink)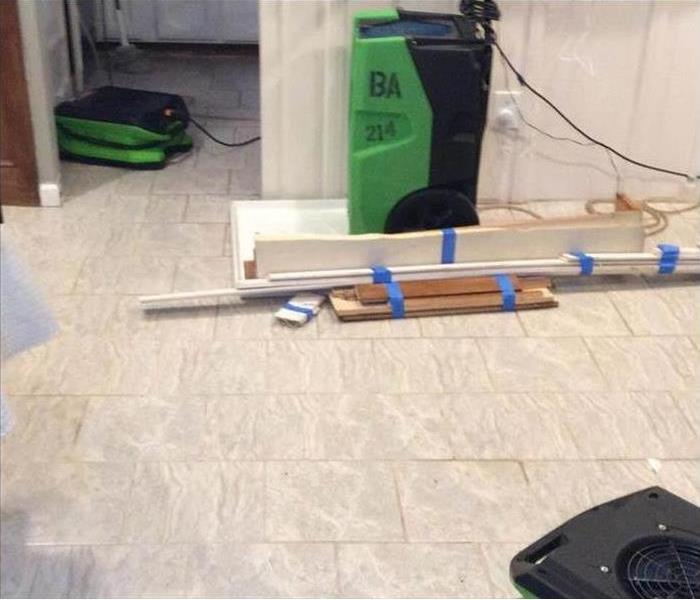 SERVPRO has a team of trained restoration technicians who know the exact steps to take after you've experienced water damage. Call us!
How To Protect Your Home From Water Damage
Water in home is a devastating condition. Burst pipe cleanup, in particular, can require extensive restoration. Yet even small leaks can cause thousands of dollars in damage to your New Tulsa, OK, house. Luckily, you can prevent many water losses by performing basic inspections of your plumbing system. Here are some common locations for water damage and how you can keep them dry.
1. Water Heater

Most water heaters last 10 to 15 years. If your heater is older than that, you should replace it before it breaks down. You should also keep the heater in a basement or garage. This way, if it does leak, it will not cause as much damage. Since even a tiny amount of water in home can be harmful, you should check the heater frequently.

2. Ceiling and Roof

Similarly, the roof of your property should be inspected for holes or other potential issues. Usually, by the time you notice a puddle of water on the ceiling, the liquid has already caused a ton of damage. A licensed professional should know how to spot leaks before they become visible.

3. Pipes

Many water problems are caused by a broken pipe. This often takes place during the winter months when pipes are known to burst. Keep your pipes as warm as possible. You can even purchase leak detection systems that will shut off your plumbing system if a malfunction occurs.

4. Air Conditioners

While air conditioners are incredible inventions, they are prone to water leaks. The drip pan, in particular, can overflow. Maintenance checks are thus a must. You should schedule them for the spring to ensure the system is working properly during the high-usage summer months. Leak detectors can help here, as well, especially for air conditioners in tough-to-reach locations.

Water in home is a largely preventable problem. By performing proper maintenance and hiring professionals to conduct inspections, you can protect your beloved house.